Your Partner for Customized Software Solutions
Professionals committed to
your success
At Devio Technologies, we believe that honesty is the foundation of trust, quality is the key to success, and delivering the best possible results for our clients is at the heart of everything we do. As a team of experienced professionals, we are committed to making your business thrive through customized solutions that meet your unique needs.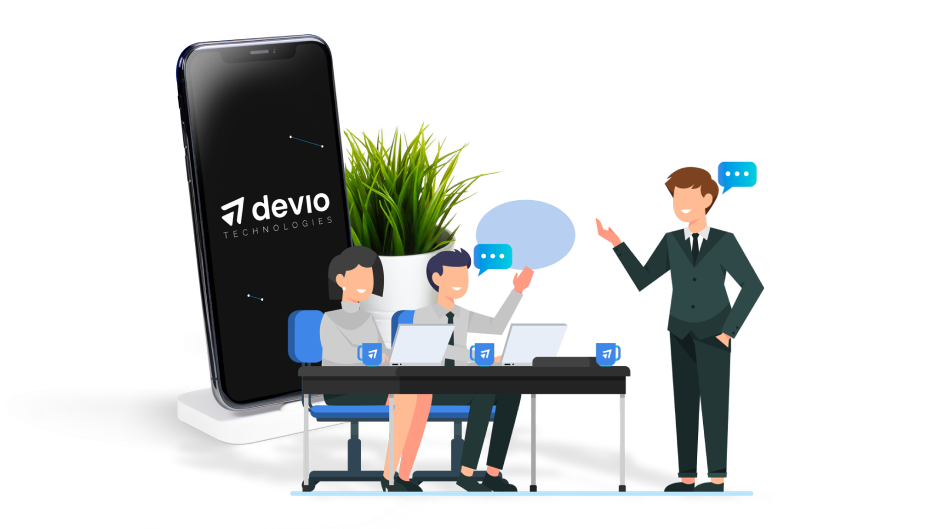 Expertise Across Two Continents
A bridge between
the US and Europe
Our global presence allows us to operate around the clock and provide you with the best possible service. With team members based in both Los Angeles, California and Barcelona, Spain, our teams have extensive expertise in both the US and European markets. This enables us to offer local teams for global clients and a collaborative approach to deliver the best possible results. We also have multilingual capabilities and a diverse talent pool to provide customized solutions that meet your unique needs.
Global expertise and resources
Flexible and scalable solutions
Embrace the power of technology
Staying ahead of the curve requires a deep understanding of technology and its potential. We're passionate about harnessing the power of technology to transform businesses. Let us help you unlock your business's full potential.
Start Your Transformation
Our Mission, Vision & Values
"Developing"
strong human connections
At Devio, we believe in empowering businesses of all sizes and industries to reach their full potential through the use of the latest technology and innovative solutions. Our mission is to help our clients transform their operations and achieve sustainable growth, while our vision is to become the go-to technology partner for businesses around the world.
Mission
Empower businesses of all sizes and industries to unlock their full potential with the latest technology and cutting-edge solutions. We are dedicated to building long-term partnerships with our clients, working together to achieve their goals and drive innovation in their respective industries.
Vision
To become the go-to technology partner for businesses around the world, delivering transformative results that drive growth and success. We strive to be at the forefront of technological advancements, enabling our clients to stay ahead of the curve and remain competitive in an ever-changing landscape.
Values
Our core values are centered around honesty, quality and care. We believe in being transparent and honest in all of our interactions with our clients, employees, and partners. We are committed to delivering the highest quality solutions and services and strive to achieve measurable outcomes that have a positive impact on our clients' businesses.
Above all, we care deeply about our clients, our employees, and our community, and we are driven by a passion for using technology to make the world a better place.
Streamlined Development Process
A
transparent and efficient
approach to software development
We use the Agile methodology and Scrum framework to deliver software solutions that meet our clients' needs. Our process is designed to be transparent, efficient, and collaborative, ensuring that you are always aware of project progress and involved in decision making.
Increased Efficiency
This methodology allows us to prioritize collaboration and continuous feedback, which leads to increased efficiency in project development and allows for quick adjustments to be made as needed.
Iterative Development
We break down projects into smaller, manageable tasks, and prioritize them based on value and complexity. This allows us to deliver working software quickly and adapt to changing requirements.
Quality Assurance
Our team is committed to delivering high-quality software that meets the highest standards. We use a range of testing methods, including automated testing, to ensure that our software is reliable, secure, and scalable.
Why should we work on your custom software solution
Questions
&
Answers
Custom software development allows companies to address specific business needs and processes, leading to improved efficiency, increased productivity, and reduced costs. It also allows for greater flexibility, scalability, and customization compared to off-the-shelf solutions.

Hiring a development company can bring numerous benefits to your business, including improved efficiency, increased productivity, better user experience, and a competitive edge. With the right development company, you can also expect quality results, expert advice, and seamless communication.

React, Node.js, and Next.js are a highly popular and efficient technology stack that provides a seamless development experience and excellent performance. Additionally, it is a well-established and widely used stack in the industry, making it easier to find qualified developers and ensure long-term sustainability of our projects.

The pricing for custom development projects is determined based on a variety of factors, including the scope and complexity of the project, the technologies used, the size of the development team, and the timeline for completion. Our team will work with you to understand your specific needs and budget to develop a pricing plan that meets your requirements and provides value for your investment.

At Devio, we approach each project with passion and dedication. Our team is highly versatile and able to adapt to each client's unique requirements. We strive to deliver customized solutions that not only meet but exceed expectations and give our clients a competitive edge.
Ready to Start Your Project?
Discuss your business needs with us and let our expert team create a tailored solution for you.
Request a Consultation